Unit 1: Grade 10 Communications Technology

Welcome to the the grade 10 Communications Technology Course. This course introduces students to communications technology from a media perspective. Students will work in the areas of TV/video and movie production, radio and audio production, print and graphic communications, photography, and animation. Student projects may include computer-based activities such as creating videos, editing photos, working with audio, cartooning, developing animations, and designing web pages. Students will also develop an awareness of related environmental and societal issues and will begin to explore secondary and postsecondary pathways leading to careers in the field. The course will be 18 weeks in duration with your final mark made up of a 70% term and 30% culminating mark.
Course Units and Descriptions
Unit
Description
Review course outline for more details
1
Graphic Design & Production - design, create and modify illustrations using a vector design software
2
Image Production & Processes - design, create and edit photo images using raster design software
3
Audio Production & Special Effects - create, manipulate and add audio effects for general media
4
Graphic Animation - design and create animated media using vector animation software
5
Audio/Video Multimedia Production - design, create and edit non-liner student video
6
Web Design - design and create your own web page using Authorware
6
Web Portfolio - Culminating Project - showcase and present course work through a web portfolio
Unit Content Activity Quick Links, Click to Jump to Specific Activity!
Unit Activity Breakdown Format
You will notice each unit activity below is broken down into five subtopics using SPICE, to guide and help you through the project and assignments related to the unit activity:

Situation - This is the introduction, big picture, or you can think of it as the setting of story/novel
Problem/Challenge - What must be resolved or completed, i.e. what you will need to accomplish
Investigation/Ideas - includes gathering ideas, research and organizing information to help create, construct, and/or complete the Problem/Challenge
Create/Construct - take your best idea and complete and/or build the needed solution
Evaluation - did the Problem/Challenge above get resolved and/or completed
This unit will introduce you to vector related projects using Illustrator CS4. Vector type applications use points, lines, and fills to create graphic solutions with the advantage of high resolution and small file sizes relative to raster/picture type applications/media.
Unit 1, Act. 1: Safety, Organization, and Course Information
Situation:
Students are starting a new course on digital graphic communications in a variety of different programs and methods.
Problem/Challenge:
Getting familiar with what the course is all about, class routines, expectations of the course and the teacher, general administration of class, and safety are all important issues to know and understand. This activity will allow students the opportunity to organize and prepare for course and understand administration, evaluation, marks, routine, and expectations for classes to run smoothly.
Investigation/Ideas:
The following is list of items that are to be reviewed by students to understand what is going on in this course: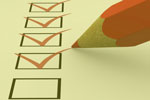 Course Details
General Safety
Detailed Safety Issues
Shop/room Layout
Shop/room Resources
Emergency Procedures
Expectations
Assessment & Evaluation
Class Policies
Routines
Attendance and Lates
Moodle Log-in
It is important that students feel comfortable with the above points and should know what is happening in the course.
Create/Construct:
Start by organizing your supplies and materials for taking and storing your notes and assignments. Review the course outline and class routine, write down any questions you have about the course, requirements, or responsibilities you need to be clear on. The following list of links are details that students are to review, after going over them in class: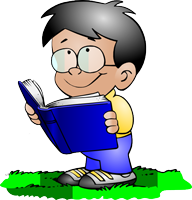 USB Memory Stick, Folders and Shortcuts
One of the first things in class we do is review the Tech Info page, point number 2 above. The top section with 10 blanks is to be filled in with the important things we will cover in this course. You will find this information by reviewing the course outline and listening to the teacher discussing what is happening in the course. The bottom section will also need to filled out with two in class peers for contact information and support with in the class to help foster teamwork and responsibility.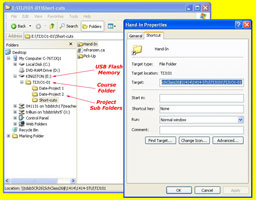 Next you will need to get a USB memory stick, for saving your work on to. You will need to follow instructions on the tech info page to create three shortcuts inside a main folder with your course code, and a sub-folder Shortcuts.:
Pick-up Folder
Hand-in Folder
mfranzen web
You will also need to create more folders for future projects as you go, to keep your work organized. The intent is to work off of your USB in school and save to your H: drive when you are finished at the end of class as a back-up. This way you can take your work with you and work elsewhere if needed and it is usually faster to access then the board network.
File Naming Conventions and Shortcut Test
To finish you will need to use all three shortcut links in an exercise called Shortcut Test: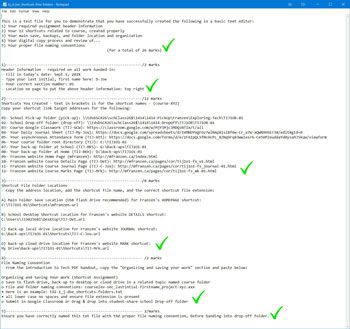 Go to the pick-up folder and get a file called Shortcut Test
Save the text file to your shortcuts folder, and open it up
You need to type your name in, then go to each of your shortcuts, right click and select properties, then copy the shortcut link address and paste it into the text file in the required location
Go to the Tech info page on the site and open up the PDF file and copy the section that explains file naming conventions, i.e. how to properly name files you hand in (just above the shortcut instructions
Re-name your file according the the section you just copied into your text file, then hand in the hand-in folder for your class using your hand-in shortcut.

Make sure all work you put in the DropOff folder shortcut, is saved first on your USB, then drag and drop onto the DropOff folder shortcut. Trying to save your work directly will result in your file not being saved and not handed in as students do not have editing privileges in the DropOff folder.
Evaluation:
Although these are not heavily weighted, they are important project assignments that will benefit you throughout the rest of this course.

Evaluation Breakdown Component Descriptions
Marks
Always double check that you have completed all components for full marks.
Survey - Answer all 7 questions fully
16
Course Outline Signed - Take home to show your parents and get signed by parent
5
Tech Info - Filled out with weight %, 10 course components, and two peer contacts
14
General Safety - Class reviewed, read through & signed by both student & parent
05
Shortcut Test - All 3 shortcuts done, shortcut test file handed in correctly
10
If you feel comfortable that you know all the details of the class/course details, you are ready to move on to the next activity. Be prepared to be able to write a quiz on the above details.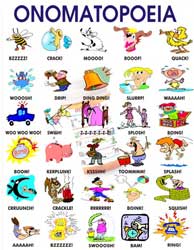 Unit 1, Act. 2: Onomatopoeia Brain Teaser
Situation:
Being creative in Cyber Arts you will need to learn and exercise a creative design process. This process includes several steps that allow you to start with an idea and come up with successful creative design(s). Using an onomatopoeia as our focus, we can go through the proper creative steps and also work more with the type tool and related components.
Problem/Challenge:
Using a creative design process, start with a minimum of 5 different thumbnail sketches showing your onomatopoeias. Using illustrators' type tool and it's related components on a 1024 * 768 landscaped web page create two onomatopoeias saved in .ai and .jpg formats.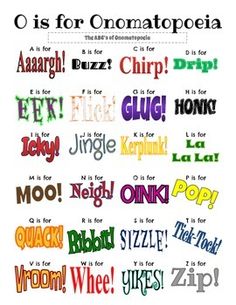 Investigation/Ideas:
What is an onomatopoeia... well in basic definition, it is a word that imitates or suggests the source of the sound that it describes. This means that the word needs to represent a sound for your project and it is up to you to decide what that sound would look like graphically base on how you see that sound and apply it to the text, giving it a custom, creative, and graphic visual response.
Some examples of words that could be used as onomatopoeias are: "Ping", "boom", "squelch", "bang", "click", "fizz", "hush", "buzz". It is suggested to take the following steps to start understanding what has to be done in this project:
Research different words that can show graphically what that word sound would represent
Review what thumbnails are, as you will need to graphically sketch those ideas on paper prior to starting your two final designs.
Illustrator Introduction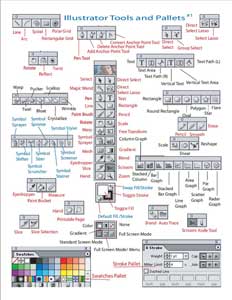 Review with your instructor the basics of Illustrator. It will take some time to learn how to use the different tools Illustrator has to offer. Once you have an understanding of the Illustrator common tools, start to experiment and see how different tools affect the graphics you create. The above list of text related tasks and components can help you see different things that you can do with them. Use the tutorials, video's, and Intro links to go at your own pace and familiarize yourself with the tools and methods that Illustrator offers. Once you have experimented with all of the different tools and methods to modify, edit, and change the type then you may start creating your onomatopoeia. Below are some key terms related to using type:
text following a pathway
text direction
size
fonts and styles
fill
stroke
kerning
leading
vertical/horizontal scale
baseline shift
character/word rotation
spacing
warp
mesh
outline
effects
expand to gradient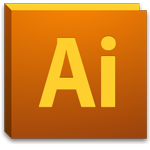 Below are some resource links for you that introduce Illustrator and also include some related tutorials, and videos:
Student Samples
The following are some examples of past projects done by students:
Create/Construct:
You will need to follow a process that should become habit when creatively designing something from scratch.
Sketch a minimum of 5 different onomatopoeic thumbnail ideas filing a full page showing details, effects, and notes.
Select two final design ideas to use.
Using Illustrator, working with one idea at a time, create your onomatopoeia using the above type tools practiced and demonstrated with earlier.
Once finished the first idea, create your second idea using different tools and effects for a completely different design
Save your file in the standard .ai file format and then use the export command to create a .jpg version also. Your final designs must fill the page as much as possible.
Here is an example of the file names you should be using based on our

tech info handout:
File name: tgj_Onomatopoeia-01_d-joe.ai
File name: tgj_Onomatopoeia-01_d-joe.jpg
Evaluation:
Final ideas will be evaluated for creativity, technicality, and the use of elements and principles of design.
Evaluation Breakdown Component Descriptions
Marks
Always double check that you have completed all components for full marks.
Design - five thumbnail sketches filing a full letter sized sheet
10
Design Illustrated - type and related tools and one final .ai and .jpg design solutions
20
Unit 1, Act. 3: Graphic Logo Design
Situation: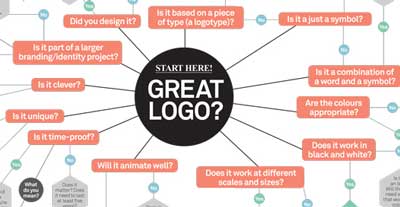 Continuing to learn how Illustrator works, specific related tasks, will help further familiarize yourself with the programs tools. It is common for businesses and individuals to want to associate themselves with unique or personal "markings". These markings are commonly referred to as "brand" logos. While it is quite true that you are not a "brand", you are actually an individual with a self-perceived identity. As a student in graphic communications you have the opportunity to design and illustrate ideas that express that identity in a quick, simple image and attach it to different mediums.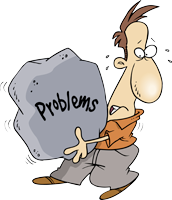 Problem/Challenge:
Design and create from scratch a graphic student professional identity logo and catch phrase or slogan. Both are to be used as part of a business card and also in the header of Word documents. Design to include logo sketch ideas and descriptions, layout ideas for both a business card and a Word document header, then following through with a final colour and black & white illustration. Logo design itself is to be based on a visual graphic and not include any form of lettering. An explanation will also be required based on the three characteristic elements:
Your character strength(s)
Your integration with technology, and
Your future professional direction
The logo design intent must be based on 1 unit high to a ratio of 1 to 3 units wide using at least seventy-five percent of square/rectangular space allocated. Specific requirements of your logo and mediums are as follows:
Logo design will be saved and handed in with the Illustrator proprietary file format AI, and also the common standard JPG format.
Investigation/Ideas:


Designing and creating a branding for yourself as a professional student will take some effort to identifying key components that you want to brand. In order to do that some research should be done to help you with graphic imagery and related slogan to match. As logo's are usually seen as a small part of what it is a part of, they need to be simple, eye catching and memorable. Looking at samples, a lot of the corporate logo's just use lettering to a great degree with graphics as a secondary.
Logo Design
Here are some links to give you some more information on what a logo is, logo design process, and converting from an image to logo:
Logo Samples and Placement
Another great place to start is checking out samples. As you will be applying your logo to a business card and letter head, you may find those related links very helpful: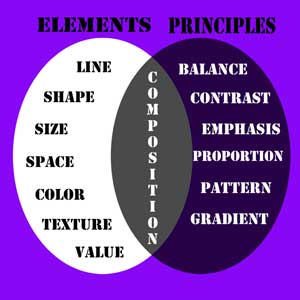 Elements and Principles of Design
The principles and elements of design are an important part of understanding the technical concepts of graphical design. Understanding this will help you with graphical design related work. Check out matrix 1 and matrix 2 to see different samples of each. The following links will give you more information on this key topic:
More Illustrator Resources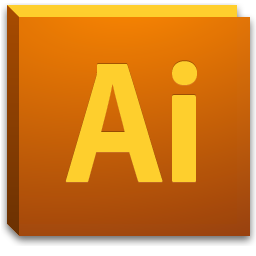 Think about keeping your logo design simple as it will commonly be used at a maximum of one inch high.Now that you have some ideas on the possibilities of what can be done, looking at how to use illustrator to create an amazing logo will help you understand and learn the steps and tools to use in Illustrator to create your logo and slogan. It might be an idea to match up your slogan lettering style and colour to go with your logo:
Sample Work
These are some older samples to give you an idea of what has been done. These samples were done by grade 9's using a similar vector program. As you have the opportunity to work with the leading industry standard program and this is a level higher, expectations in terms of research, quality, and ideas will be greater. Ensure that you focus on creating complimentary designs for each of your mediums. For example the business card may have a background to support and add to the logo. Contrast is a key concept in design that gives could give the logo more focus on the business card, as you want it to standout and be memorable. The same can also be done with the letter head. The above video

Create a Word letterhead is a great example of what you can do to create a supporting graphic background to support the header and footer and give the logo more focus and standout on the page.
Sample one and two are based on the circle and are a composition of basic shapes symbolizing a basic, and noticeable graphic in colour, but black and white have little contrast, while the third does not have the presence of the first two it does have an interesting image. The box around the image was done on purpose, but with the extra white space, now does not meet the 75 percent rule. The fourth logo is very eye catching, fun, uses the black and white effectivly, and is made up of ellipses and circles, making it the most appealing of the four.
Create/Construct:


Logo Idea Creation Steps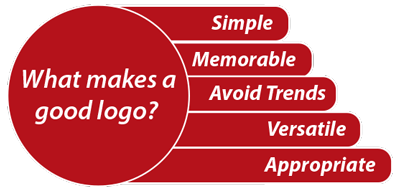 Using the three characteristic elements; your character strength(s), integration with technology, and future professional direction write down two or three words describing each to support possible related images, shapes, symbols, and supporting slogans:
For each characteristic element , write down two or three key words for each
Think or research, using those words, some simple related graphic images. Tip, you could enter all of your key words into a Google search for images and see what come up and use those as a starting point.
Select or combine the graphics that best would brand you as a person and represent those characteristic elements
Sketching Steps
Using a blank page with your key words at the top, sketch your ideas using the following three sketch steps:
Sketch two preliminary possible graphical logo ideas based the three characteristic elements along with catch phrase or slogan
Sketch two business card layouts and two document header layouts showing background, location placement of information, possible colours, logos, and slogan
Pick your final logo design, business card layout, and Word document layout to sketch your final design
Hand in your sketches to the instructor for evaluation and feedback before you start drawing in Illustrator.
Illustrator
The intension here is to explore and use several tools and methods that Illustrator has to offer in creating a logo design. Having your idea on paper now will allow you to focus on making your logo. Follow live demonstrations and practice using the tools in Illustrator to advance your familiarity with the different tools and methods. Reviewing tutorials to see different methods of creating logos will help you come up with the right steps to take to get the graphic results you may be looking for based on your sketch ideas.
Logo Display Steps
Select final logo design idea and refine if necessary
Using Illustrator, set-up a custom print page, create print margins, guide lines for full scale and enlarged scaled logo areas
Create a box with your ratio sized logo area, then create your coloured design with organized layers and groups
When finished your coloured design, duplicate and then convert-design a black and white version of your logo
Once you are finished both, duplicate both and re size to 1" high and place top left and right sides, and put a title
Remember use your layers and grouping objects and to make use of appropriate tools, colours, effects, fills, etc.
Save proprietary .ai and also as a .jpg for later hand-in
Business Card steps
Using Illustrator set-up a custom logo print page, layout print margins, guide lines for two columns and five rows of business cards with 1/8" bleed space between cards - template
Start on your colour business card by bringing in your recently created logo design
Enter in your text related contact information and place slogan
Blend and combine your foreground, background, and additional related images to create a graphical attractive design complimenting your logo
Layout, organization of information, and graphics are very important here. Ensure you have white space, colours, design principles kept in mind when finalizing your business card design
Save proprietary .ai and also as a .jpg for later hand-in
Word Document Steps
Using Microsoft Word, use the provided body of document to create a stationary document with your included logo and information
Header to include your logo, Main Title, Name, "auto" Date, School, and course
Header and footer design should compliment each other
Footer to show "auto" file name and page number
Body to include appropriate title format, explanation feedback on the three requirements for your logo design, self and peer evaluation table filled in and totaled up
Save proprietary .doc and also as a .jpg for later hand-in (use alt + Print Screen to save to clipboard, open paint and paste (ctrl v), crop image appropriately, then save as jpg)
Evaluation:
Final ideas will be evaluated for creativity, technicality, and the use of elements and principles of design.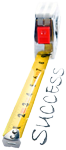 Evaluation Breakdown Component Descriptions
Marks
Always double check that you have completed all components for full marks.
Logo Design - 2 logos, 2 bus cards, 2 Word headers, 1 final bus card & Word header
16
Logo display - set-up and tools, design, colour, black and white, 1" and full size
20
Business Cards - set-up and tools, 10 duplicates, additional graphics, layout and design
20
Word Document - header/footer, 1" logo, info, body with feedback and self/peer evaluation
15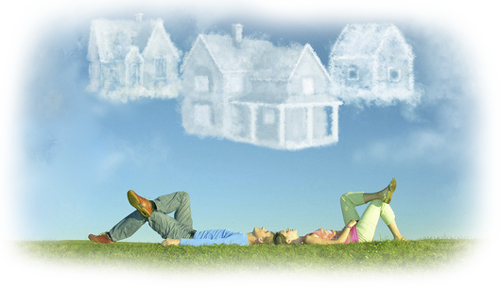 Unit 1, Act. 4: Design Your Dream House
Situation:
Imagine you are a new illustrator assistant of a residential developer and the boss would like you to draw him a dream house concept to be used as a design idea to help the architects come up with some new ideas. All he wants is a elevation perspective view from the front. This is the perfect opportunity to work with some of illustrator's core tools to come up with an awesome design. For this reason you will have the opportunity to experiment and make what you think your dream house should look like.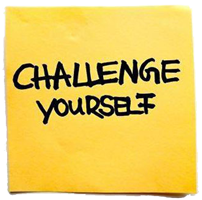 Problem/Challenge:
Create a dream house that must have the basic necessities such as a garage, doors, windows accompanied with landscape, sky, moon or sun, trees, bushes, driveway, etc. The dream home setting you create is to show the house 75% of page with 25% landscape/sky also showing perspective. Use appropriate tools to design and build the house, landscape, and background. Remember to keep in mind Principles and Elements of Design recently introduced.
Investigation/Ideas: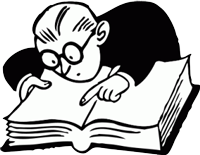 The following list of concepts and Illustrator tools should be used while completing this task: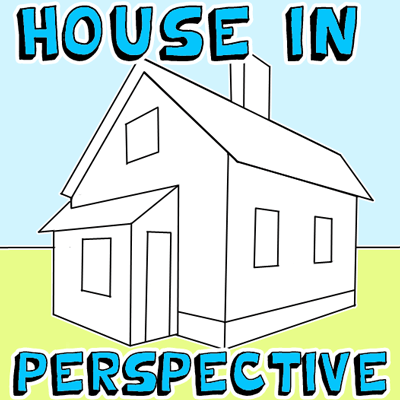 Sketching and Techniques
Vector vs bit map drawing
New file size: web profile 1024*768, guide set-up
Shapes, pencil, pen, shape, and brushes
Paths, colour/strokes, layers, transparency, and styles
Stroke, fill, gradients, and effects
Specialized tools
Ensure that you review the principles of design, which include major concepts; contrast, emphasis, balance, unity, pattern, movement, and rhythm. You will also want to keep in mind the elements of design which include; line, shape, form, colour, value, texture and space. The following resource links may assist you with your drawing/illustration process by following and looking at more related tutorials:
The following are some samples that were done in the past using a similar vector/illustration software application. Notice that perspective was used with their creative design, showing use of the many colours, patterns, brushes, gradients, and text tools that illustrator has to offer.
Create/Construct:

Start by creating a full page basic sketch of your dream house showing doors, windows, levels, landscape, driveway, background, etc. Try to add perspective to your house with different settings. Use the web to get some ideas from several different designs.
Sketching Steps
Meanwhile during class, take some time to experiment with Illustrator tools, creating some basic shapes, making parts of the house and landscape to use with your dream house creation. Once you have completed your sketch and have practiced with Illustrators tools start a new web profile file 1024*768 and set-up guides, grid, ruler, etc. Scan in your sketch, so that you can use it on a separate layer and dim to 25% to help you build your perspective design in Illustrator.
Create a number of layers such as House, Windows, Doors, Roof, Driveway, Trees, Sky, Grass, etc, as you will need to be able to organize your objects with-in each layer. Draw your house features starting with the largest parts working to the smaller details. Focus on closed objects with no fill initially. Make sure to use solid closed objects so that you can fill and outline properly later. Change from Preview to Outline view to help during illustration build. Try to experiment and use as many tools as you can to further develope your skill, as you further your illustration dream home design.
Illustration Steps
When you have drawn the basic house, some foreground and background, then you will need to organize your layers by naming them and putting them in the appropriate order so that they are viewed properly. Next apply a temporary fill to view your house layers. Ensure you finish house, landscape, etc. first before spending time hunting for the exact right texture, pattern, brush, style, effect, etc. go through the sample libraries Illustrator offers first to save time.
It is possible to make your own swatch/brush libraries, and/or just do a search and find an appropriate swatch that you need for exact look you need. Using the right search terms, you can download free illustrator swatches, patterns, gradients, styles, brushes, etc. Here is a sample site for getting swatches, all-free-download.com. If you find some great resources, save them to the Hand-in folder, under the appropriate folder, and the instructor will then provide them in the Pick-up Folder for all to use.
Fill the page so that your use of "space" creates a nice balance and remember to review and apply your principals and elements of design. While working, save your work to your USB flash stick and backup to your H drive.
When you are close to finished have two peers give their input and make any improvements as needed. If you are finished early, have your instructor also review it prior to handing in. When handing in, you will submit it in the hand-in-folder as discussed in class, in the default .ai format and also export to a .jpg format. Ensure the file extension is correct and present. Here is an example of the file names you should be using:
File name: tgj_house_d-joe.ai
File name: tgj_house_d-joe.jpg
Evaluation:
Use this section as a check list to make sure that all the major components of this activity have been completed

Evaluation Breakdown Component Descriptions
Marks
Always double check that you have completed all components for full marks.
Sketch - house perspective, details, landscape, background, and foreground
20
House design and Tools - overall design, line, text, shapes, layers, brush, stroke, and fills
60