Unit 1: Computer Technology - Introduction, Careers, and Safety

This course introduces students to computer systems, networking, and interfacing, as well as electronics and robotics. Students will assemble, repair, and configure computers with various types of operating systems and application software. Students will build small electronic circuits and write computer programs to control simple peripheral devices or robots. Students will also develop an awareness of environmental and societal issues related to the use of computers, and learn about secondary and postsecondary pathways to careers in computer technology. Focus will support robotics and the Robo program here at Western. The course will be 18 weeks in duration with your final mark made up of a 70% term and 30% culminating mark.
Course Units and Descriptions
Unit
Description
Review course outline for more details
1
Careers & Safety - Intro, computers, organization, safety, and research careers
2
Computers - organization, hardware, design, software, maintenance, building, repair, and troubleshooting
3
Circuits - Electrical characteristics, calculations, components, digital logic design, project build, and troubleshooting
4
Boe-Bot - micro controllers, electronics, robot builds, circuit building, programming, robot naviagtion, testing, and troubleshooting
5
Web Portfolio - Showcase course work, projects, and understanding with web portfolio and presentation
Unit Activity Breakdown Format


You will notice each unit activity below is broken down into five subtopics, SPICE, to guide and help you through the project and assignments related to the unit activity:
S

ituation - This is the introduction, big picture, or you can think of it as the setting of story/novel

P

roblem/Challenge - What must be resolved or completed, i.e. what you will need to accomplish

I

nvestigation/Ideas - includes gathering ideas, research and organizing information to help create, construct, and/or complete the Problem/Challenge

C

reate/Construct - take your best idea and complete and/or build the needed solution

E

valuation - did the Problem/Challenge above get resolved and/or completed
This unit will introduce you to the course, class routines, safety, expectations, organization, and realated careers.
Unit Content Activity Quick Links, Click to Jump to Specific Activity!
Unit 1, Act. 1: Introduction, Organization, and Safety
Situation:
Students are starting a new course in Technological Design and will be introduced to the course, given some organization and support documents, and safety awareness.
Problem/Challenge:
Getting familiar with what the course is all about, related careers, class routines, expectations of the course and the teacher, general administration of class, and safety are all important issues to know and understand. This activity will allow students the opportunity to organize and prepare for course and understand administration, evaluation, marks, routine, possible career direction, and expectations for classes to run smoothly.
Investigation/Ideas:
The following is list of items that are to be reviewed by students to understand what is going on in this course: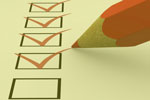 Course Details
General Safety
Detailed Safety Issues
Shop/room Layout
Shop/room Resources
Emergency Procedures
Expectations
Assessment & Evaluation
Class Policies
Routines
Attendance and Lates
Moodle Log-in
It is important that students feel comfortable with the above points and should know what is happening in the course.
Create/Construct:
Course Related Info
Start by organizing your supplies and materials for taking and storing your notes and assignments. Review the course outline and class routine, write down any questions you have about the course, requirements, or responsibilities you need to be clear on. The following list of links are details that students are to review, after going over them in class: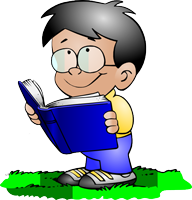 USB Memory Stick, Folders and Shortcuts
One of the first things in class we do is review the Tech Info page, point number 2 above. The top section with 10 blanks is to be filled in with the important things we will cover in this course. You will find this information by reviewing the course outline and listening to the teacher discussing what is happening in the course. The bottom section will also need to filled out with two in class peers for contact information and support with in the class to help foster teamwork and responsibility.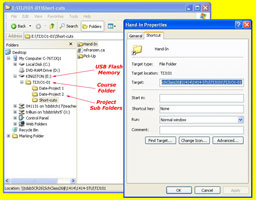 Next you will need to get a USB memory stick, for saving your work on to. You will need to follow instructions on the tech info page to create three shortcuts inside a main folder with your course code, and a sub-folder Shortcuts.:
Pick-up Folder
Drop-off Folder
Web Course Main Page
Web Course Details Page
Web Course Journal Page
Web Course Marks Page
You will also need to create more folders for future projects as you go, to keep your work organized. The intent is to work off of your USB in school and save to your H: drive when you are finished at the end of class as a back-up. This way you can take your work with you and work elsewhere if needed and it is usually faster to access then the board network.
File Naming Conventions and Shortcut Test
To finish you will need to use all three shortcut links in an exercise called Shortcut Test: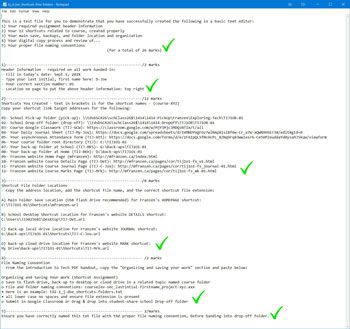 Go to the pick-up folder and get a file called Shortcut Test
Save the text file to your shortcuts folder, and open it up
You need to type your name in, then go to each of your shortcuts, right click and select properties, then copy the shortcut link address and paste it into the text file in the required location
Go to the Tech info page on the site and open up the PDF file and copy the section that explains file naming conventions, i.e. how to properly name files you hand in (just above the shortcut instructions
Re-name your file according the the section you just copied into your text file, then hand in the hand-in folder for your class using your hand-in shortcut.

Make sure all work you put in the DropOff folder shortcut, is saved first on your USB, then drag and drop onto the DropOff folder shortcut. Trying to save your work directly will result in your file not being saved and not handed in as students do not have editing privivlegs in the DropOff folder.
Evaluation:
Although these are not heavily weighted, they are important project assignments that will benefit you throughout the rest of this course.

Evaluation Breakdown Component Descriptions
Marks
Always double check that you have completed all components for full marks.
Survey - Answer all 8 questions fully
16
Course Outline Signed - Take home to show your parents and get signed by parent
5
Tech Info - Filled out with weight %, 10 course components, and two peer contacts
14
General Safety - Class reviewed, read through & signed by both student & parent
5
Shortcut Test - All 3 shortcuts done, shortcut test file handed in correctly
12
If you feel comfortable that you know all the details of the class/course details, you are ready to move on to the next activity. Be prepared to be able to write a quiz on the above details.
Unit 1, Act. 2: Related Career
Situation:
You are new to this field area, unfamiliar with possible career directions that this may offer and what steps may be taken to go into a related field.
Problem/Challenge:
Select an related career field that you may be interested in and research it to present in the form of a two page detailed document or a presentation 6 to 10 slides in length. The career selected must show a title, sub titles, key information in different forms such as text, charts, maps, illustrations, and/or images. Images and/or charts should be no more than 50% of page and information must include the following:
Job title, general description, responsibilities, and salary/wage levels
Related skills, interests and values
Schooling, preparation and requirements
Future forecast/outlook of field area
Your resources and where to go for further support
Investigation/Ideas:
The first task involves selecting a related field in Computer Technology that you may feel interested in and researching details about that area. If you are having trouble deciding on which trade, you could try an Online Employability Skill an Attitude Quiz to help you decide which field might be best suited to look into. Below are some great resource links to assist with finding more information in a career field in Technological Design that you may be interested in.: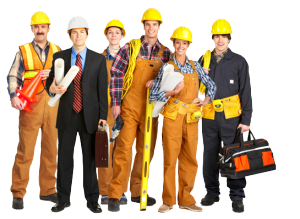 Choosing a career as a student can be very difficult when you don't have enough information to make the right decision. Although a Word document will be sufficient, the Prezi presentation online tool is a great show and create some really interesting and dynamic presentations. This Prezi I made up, has a lot of the questions student may have, not just on Engineering, but also steps students can take in High School to help them make the right decision on their career direction. View the Prezi presentation here.
Create/Construct:
Choose a Computer/Robotics related career, using the

sign-up sheet for it. Create a career information source using the

handout guide. The source may be as simple as a word doc using a maximum of 1 page both-sides to include text, possible illustration/pictures, and chart/table showing key details of your interested computer related career. To the left is a sample

PDF and if you want it in

DOC format just click on it. Convert or save your DOC career report to a PDF format, then upload to Moodle server on your course Moodle Wiki, (you will need to sign-in to submit your work) so that it may be viewed by your peers and evaluated for marks. If you decide to create a Prezi, Slide Share, Mind Map or similar ensure that you have covered the requirements.
Evaluation:
Ensure that you have completed all requirements, included related pictures, and lots of related resources. see

handout guide for breakdown and ensure it is handed into Wiki for presentation.

Evaluation Breakdown Component Descriptions
Marks
Always double check that you have completed all components for full marks.
Content - included all required information and resources
14
Layout - organized, visually apealling, easy to follow, and well laid out
4
Presentation - clear, visuals, easy to understand, coverage, and time
12
Self and Peer Evaluation - based on report information.
10