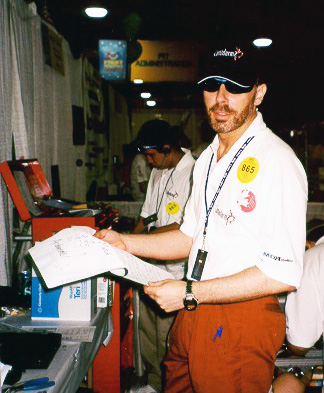 About Myself
I have been teaching since 1996. I started out as an occasional teacher after graduating from University of Toronto in their full-time Technology Teacher program. Shortly after starting occasional teaching I filled in for a Design Technology teacher for an LTO (long term occasional) position for most of the semester teaching sketching, drafting, AutoCAD, CNC machining. I still to this day have the sample brass key fob that was designed, drafted, and cut out by the CNC mill as a reminder. I was later hired by one of the schools that I had a practium with and have continued to teach there since, in multiple programs.


School Interests
School is about learning having fun and creating new relationships. Teachers have the opportunity to participate and make this happen. There are many aspects of school that I enjoy. Every semester brings a new set of challenges and excitement. I enjoy meeting new students and building students up throughout their stay at our school. I have participated in many extra-curricular activities such as supervising and working-out with the students in the weight room, robotics club and now a team that is integrated with our robotic courses, annual carnivals, commencement, downhill skiing, floor hockey, partnership school visits, demonstrations, etc.

Technological Design
I have taught Design and Technology (the old industrial design program) and current Technological Design at the High School level. I have also taught through OISE, Technological Design 9/10 for teachers several years ago. Back when I started at my current school many years ago, I was asked to teach the old Drafting course at the time(pencil/paper/drafting drawing tools, blueprints,etc. which is no longer taught), and built up the program from 9 to 12 and later upgrading out of Drafting and into 2D and 3D CAD, because of the direction of industry and use of computers. Unfortunately, being moved into the new (at the time) broad-based Integrated Technologies program, took me away from Technological Design. I ended up founding, designing, and building this new program from scratch, which ran very successfully. Unfortunately the Technological Design program dissipated with-in a couple of years after leaving. Later on, I was focused in two other programs: Electrical Construction and Computer Service while the BBT Integrated Technologies program was modified into a three or four rotation based on teacher and timetabling, with teachers teaching in their area of expertise rather than having one teacher do it all. This allowed more teachers to work with students in their area of background and expertise and give students a chance to meet the teacher and the possible future program they may decide to further explore. Now we are in full cycle back with Technological Design which is now seen and understood by students and the school as an important part of our technology programs including robotics and is growing due to the understanding and need to be able to virtially design, create, and communicate working designs.
Special Interests in Technological Design
I have enjoyed teaching architectural design and found a lot of students have a real interest in this field. I have always had an interest in robotics, and past years it was gaining popularity and need. Back in 2000, when I found out about FIRST robotics and its competition, I founded a robotics club at the school and we became a FIRST Robotics team by entering into the annual competition. The first year we had very little resources, but managed to scrape together sponsor funding from several sources and build our first robot to compete in the local regional competition (back then was the Hershy Centre for all of GTA). As a rookie team (first year participating) against 40 plus other teams, we had a lot to learn and some stiff competition. Our robot had an ingenious design as our robot could grab a rolling goal pull/leverage it on to our robot and apply/add the rolling carts weight on to our high torque robot drive system. This resulted in a unique way to increase our traction 10 fold allowing us to easily dominate the goal and control the points. This got us selected in the final rounds as an alliance partner and we ended up wining the whole regional competition in our 3 robot alliance. This resulted in us being allowed to compete again in the Florida Nationals at the Epcot centre, which because of the win, was a big thing for our school and the TDSB Board - i.e. we got further support and team got to go on this next adventure competing at the world championships. It was a very exciting start indeed, for our robotics team WARP7!
Career Interest and Background
I have had a colourful background of varied interest and opportunities. I started my working career learning the trade of Heavy Duty Construction Tire Service and Repair right out of High School. Changed, repaired, serviced, and sold tires on machine equipment such as  scrapers; grade-alls, trucks, front-end loaders, tractors, backhoe loaders, articulated trucks,specialized trailers, off highway trucks, and freight container loaders/gantry cranes, Working with pneumatics jacks and air guns, 5 ton hydraulic cranes, and tires usually larger than cars, this was a very unique skill set.
I also worked in demolition and renovation projects gaining a lot of experience in the construction industry for structures with commercial and residential areas giving me knowledge on building structures and their make-up first hand. Through renovations I learned how to design and improve space and appearance of living and working areas. I later gained an interest in the Electrical industry.
I applied for an apprenticeship through the IBEW (International Brothers of Electrical Workers) Union and was accepted a year later. While in trade school I excelled in several areas and ended up taking an optional 4th session on Automation Programming and Control. I further augmented my education taking "Union Saturday morning classes" to gain direct working experience with a number of related subjects. Through my job I was quickly exposed to a variety of field areas such as residential, commercial, and industrial, taking on several different positions in the company including emergency service with my own service truck, building maintenance and their electric heating, bell computer installations, school board service and maintenance, industrial automation installation and controls, later acting as foreman for industrial lines. I also designed, estimated, and installed different electrical systems for homes and commercial projects.

My interest in teaching developed over the years through teaching supporting others in industry, and later applied for a full time teaching program to teach in High School. I was accepted and was able to start working in the teaching industry.
Personal Interest
Currently active in weight lifting/training at the local gym. Along with weight training, nutrition is also very important. I make some pretty awesome protein shakes using wholesome ingredients and also take a number of vitamin supplements daily. I generally workout daily to maintain my fitness level and strength. I cycle as a aerobic/callisthenics fitness routine which is tied in with my weight lifting/training using Iron Horse hybrid bike. I also have many activities including swimming, canoeing, camping, hiking, fishing, squash, badminton, cycling, volleyball, roller-blading, winter downhill and cross-country skiing, water skiing, tubing, snorkeling, open water scuba-diving, martial arts and skating. I have coached in individual and small groups with squash, weight training, and martial arts.
I use to ride a lot on my 2000 Suzuki Hayabusa sport touring motorcycle, but with a very serious accident a few years back from a driver cutting across three lanes in front of me and myself almost being killed and motorcycle totaled, I decided to put the insurance money towards a new car and now drive a 2013 Genesis Coupe, 3.8 liter luxury sport, which I thoroughly enjoy. I bought a set of winter wheels and change them myself annually.
I took the time a few years back to re-design my backyard using a 3D CAD program called Punch Home and Landscaping to design and re-do the landscaping. Each year I continue to refine and update the backyard creating a more natural and relaxing ambient area to enjoy. It is common to see me planting trees, flowers, bushes etc continually filling in the backyard further. It has a small vegetable garden, patio, fire pit, dining area, BBQ, shed, curve edged garden trim with central trees. I am curretly working on roughing in a Koi pond during the summer months when I have time.
I enjoy using the latest technology, where it helps me in my general life and in my profession. This has always been a personal interest which can add up using the latest gadgets. I remember back when the 286, 386 and then the 486 CPU processor computers had come out. At the time I spent close to $5,000 dollars to get a top-of-the line system. It had a state-of-the-art 3d multi-sync monitor and a 40 MEG hard drive with an external modem and a seven-pin dot-matrix Star printer. Technology has come a long way and I continue to build all my computer systems including a full server in a half tall rack enclosure from scratch using quality components in their related areas. What is a computer if you don't know how to use the software, so I have spend a lot of time learning to use different software applications with my related backgrounds over the years. I currently use a wide variety of application software including virtual servers, web page design/programming, 3D modeling, multi-media and graphic programs, general programming, project management, business and office applications, desktop publishing, etc.
Several years back I picked up a 5 * 10' solid oak Dufferin Snooker table. Canadian Boston Pool is more commonly played here on an 8 * 10' table with the larger 2 1/4" balls and bigger cue tips in comparison to Snooker. Snooker is a lot more challenging game as it uses the smaller 2 1/8" balls along with the smaller 10-11mm pool cue tips. Commonly on regular Canadian pool tables the pockets have chiseled edges, but Snooker tables have rounded corners, making for a challenging shot, to put balls in the corner pockets. I have a great respect for those European super players who sometimes will go an entire game without missing on a full size 6 * 12' table. I also enjoy playing fooseball a lot of time my brother-in-law and I go head to head working-up a bit of a sweat and competitively compete for the win - all for fun. I also enjoy a little poker each month playing tournament style on a poker table I designed and built a few summers ago, and have also enjoy a game or two of Call of Duty on X-Box 360 and more recently World of Tanks with X-box 360, I-Pad, and PC versions.
Each year I enjoy traveling with my wife. We have been to many places through different modes of transportation. Europe with it's rail pass is a time to remember. Cruising in the tropics, enjoying the beaches, tropical islands, and traveling down east, have all been great experiences. More recently we have traveled around Ontario, Nova Scotia, and Quebec staying closer to home, enjoying and exploring parts of our own country.
Mini-Me Resume
Below is a mini resume on my education, work experience, and character strengths:
My Education

Past: Queens University

Kingston, Ontario
Jan 2014 to April 2014
ABQ Technological Design 09/10

Current: Queens University

Kingston, Ontario
Jan 2015 to April 2015
ABQ Technological Design 11/12

Future: Canadian Red Cross

Mississauga, Ontario
Dates July 2016
Emergency First Aid and CPR-B
My Work Experience
OISE ABQ Technological Design 9/10

Toronto, Ontario
Sept.. 2006 to Dec.. 2006 - Part time
Additional basic qualification teaching Technological Design

Current: Western Technical-Commercial School

Toronto, Ontario
Sept.. 1997 to Current
Educator, teaching a variety of subject areas such as;Technological Design, Communications Technology, Engineering Technology, Computer Technology, Electrical Construction, General Construction, Greens Industries, Integrated Technologies, and Foods

Future Possibility: Queens Instructor

Kingston, Ontario
possible foreseeable future- Part time
On-line Program Instruction
Top 5 Character Strengths
Below are my top 5 character strengths as explained at Identify Your Top Five Character Strengths that are present with-in my life-style and work environment:
Citizenship, Teamwork, and Loyalty
Integrity
Fairness
Love of learning
Perspective